We caught a ride with Raul, who had to go to the west part of the city, and landed at the Museum of Anthropology by 9:30 am. Maya was feeling much better, and was no doubt happy we had not taken the metro.
The Museum (yes, with a capital M) is one of the best in the world, and in its first floor houses the most amazing collection of Mesoamerican artifacts, beautifully displayed in thematic halls. In addition, there are detailed models of all famous sites, and full-size replicas of some pyramid decorations, burials and tombs, and inside chambers selected for their exquisite decorations. Maya went nuts taking pictures "for Uri", but I am not sure what the intention was here. I believe it is because Uri, who is studying archaeology, is sure to turn green with envy. She also played a game of hide and seek with two younger girls, who broke into giggles every time they talked to her.
After we finished browsing through the first floor we had lunch, and thus fortified, we climbed the steps to the second floor, where the vast ethnographic collection of the museum is on display. This collection documents the mores, costumes, work, festivals, and handcrafts of modern Mexican Indian tribes. It is a wonderful reminder of the rich cultural traditions of the native people of Mexico, even though it becomes clear that their numbers are dwindling and their lifestyles are being diluted by modern culture.
After we finished I had to stop at the museum shop, where I found the perfect missing piece for my collection: A vessel with lid in the thin-orange tradition of Teotihuacan. So I bought it and now will have to be carting it around for the rest of the trip (as my mother would put it, "ahora tengo que andar cuidando la loza".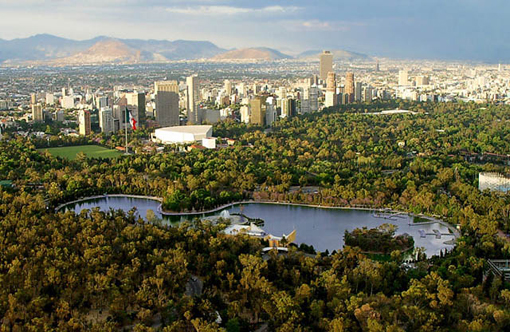 Since we still had some time, we crossed Reforma and took a walk around "El Lago". I told Maya that I used to play hookie here when I was in middle school. We then turned into the main touristic pedestrian path and walked all the way to the zoo. Of course we had to visit the zoo!
The zoo is very well maintained by the city, is free, and is a great place to look at both animals and people having fun. Maya had a field day taking photographs of all the animals, elbowing her way to the front of the line. She made a friend with a little girl who pinched her gently in the leg, and then turned to give her a big smile. This young woman sure is a magnet for little girls!
Just as we were getting out of the zoo Raul called to see if he could pick us up on his way from work, so we also had a very comfy ride back home. When we got home we were starved, so it was a good thing that Georgina had dinner ready. She made a very yummy chicken soup with veggies, and "pollo en pipian" (chicken in a green mole sauce). Muy sabroso!
Tomorrow we start on a tour that will take us to Morelia, Uruapan, Guanajuato, and Aguascalientes, so I am not sure I will be able to keep up with daily entries. Not to worry, sooner or later I will get access to the internet.